Click link to a list of strategy guides for this hero: Pinocchio Strategy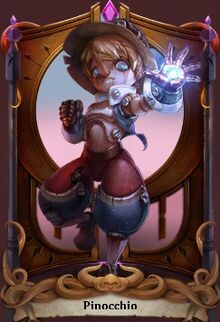 ELEMENT: Wood, CLASS: Agility Hero
A kind fairy granted life to this wooden doll. He understands that he'll likely never be more than a living doll but tries his best to make everyone around him happy anyway. After all, one should appreciate the life you've been given to the fullest.
Hero's Aura and Skills
Ad blocker interference detected!
Wikia is a free-to-use site that makes money from advertising. We have a modified experience for viewers using ad blockers

Wikia is not accessible if you've made further modifications. Remove the custom ad blocker rule(s) and the page will load as expected.