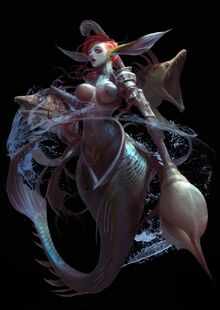 Click link to a list of strategy guides for this hero: Sirene Strategy  <--Currently Unavailable.Click link to create a strategy page
Sirene is a water hero. She is based on Hans Christian Andersen's fairy tale, The Little Mermaid.
Intro
The daughter of King Neptune, Sirene's voice could calm the wildest storms and pierce the thickEst fog. She was the apple of her father's eye and a jewel among Merfolk. But one fateful day, her voice disappeared. She became angry, sullen, and prone to violent mood swings.
Details
ELEMENT: Water
CLASS: Intelligence Hero
Combo Information
Abilities
Hero's Aura
Oceanic Aura: Grants the hero an aura that strengthens nearby Water element Heroes. If set as a leader, strengthens all Water element Heroes.
Increases INT by 71.
Hero's Skill
Song of the Deep:
Distress Cry:
Lullaby:
History
Gallery
REPLACE ALL PHOTOS WITH RESPECTIVE HERO'S PHOTO!!!!!!